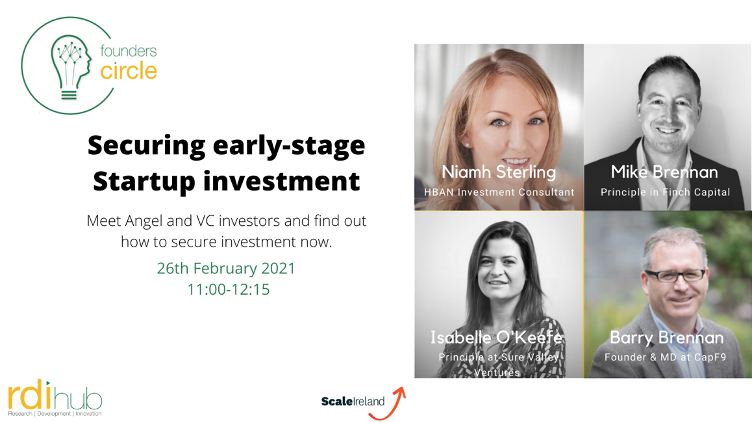 The #Founders'Circle is a monthly, virtual event for tech founders to come together to share rich conversations, gain experience, get 1:1 mentoring and forge connections to accelerate Startup growth. #Founders'Circle is a vibrant community powered by RDI Hub in association with Scale Ireland. The RDI Hub is a Scale up ecosystem, a body of Startups, corporates and researchers focused on Scale and finding new sources of business growth. Scale Ireland is the independent policy voice for Ireland's high-growth tech Startups. The #Founders'Circle is a private and virtual event which will be sure to ignite the spark for tech Startups ensuring you get your questions answered by experts in the area. Click here to be in the loop on the inside scoop!

About Februarys #Founders'Circle
Would you like to maximise your chances of securing Startup funding? Are you keen to discover who is getting early-stage investment and why? If the answer is yes, then join #Founders'Circle on the 26th of February and hear from CEO and Investor Niamh Sterling HBAN investment consultant, as she talks all things early-stage investment along with Barry Brennan, founder & MD at CapF9 and Isabelle O'Keeffe, principle at Sure Valley Venture, Mike Principal in Finch Capital as he gives the Angel and VC perspective on how to navigate the changing landscape of funding in Ireland and maximize your chances of securing investment. What's more, get 1:1 advice from top-tier mentors and learn from founders who have secured investment.
Who will be there?
100+ Founders along with Niamh Sterling, founder and HBAN Investment Consultant, Barry Brennan, Founder & MD at CapF9, Isabelle O'Keeffe, Principle at Sure Valley Venture, Mike Brennan, Principal in Finch Capital , Gary Davidson Investment Lead, Technation Mary McKenna David Larkin, Eain Jones, Reidín O Connor, Niall Larkin, Martina Fitzgerald, CEO Scale Ireland, Liam Cronin, CEO RDI Hub.
Agenda
11.00 – 11.05: Welcome
11.05- 11.30: Panel discussion – the VC and Angels perspective and insights into securing investment for early stage startup – With Niamh Sterling,Hban Investment Consultant Isabelle O Keeffe, Principle at Sure Valley Venture, Barry Brennan, Founder & MD, CapF9, Mike Brennan, Principal in Finch Capital will into funding options, pitching strategies and sourcing investment now.
11.30- 11.55: Curated peer to peer breakout
11.55 – 12.15: Q&A with Panel
14.00- 16.00: Curated Mentorship
Some facts on Startup funding in Ireland
Venture capital funding in early-stage Start-ups in Ireland fell by almost a third in 2020 as the pandemic downturn took its toll on deal making.
You may have already heard that investments in early-stage startups dropped 32%, from €285m to €194m in 2020. This months #Founders'Circle will tackle the thorny issues from 11-12.15AM. Be sure not to miss out. It's going to be a beneficial one! Investors are focusing their attention on companies who have experienced a greater demand for their services during Covid-19 reports Stephen Conmy. Perhaps most importantly, given the level of uncertainty, investors have become more cautious. They need to deploy capital but prefer companies with well-established business models. Appetite for high-risk, high-reward early-stage deals is greatly reduced. Action cannot come soon enough. Investment capital is the lifeblood for such companies as they typically they cannot borrow and need to raise private funding to survive.
While overall funding figures are up – with €925m invested in Irish SMEs last year compared to €820m the year prior – investments in early-stage start-ups dropped 32pc, from €285m to €194m. That's according to the new figures from the Irish Venture Capital Association (IVCA), which deems an early-stage start-up deal to be €5m or less reports Irish journalist Johnathan Keane. "Despite the positive overall figures in a difficult year, the data highlights a concern that early-stage companies are finding it increasingly difficult to raise funds," Gillian Buckley, chair of the IVCA, said.
Meet our mentors

Shane Kavanagh – Group Marketing Director for Fexco, Irelands most successful, independently owned, financial technology and business solutions providers processing more than $10 billion in transactions annually.
John McElligott – MD of Smartbox Online, €60M ARR across 9 countries, core competencies (leadership, product mgmt, marketing, customer lifecycle, analytics, m&A, pricing, strategy), industry (eCommerce, financial services, online advertising, SaaS), qualification and awards. (NED for several early stage companies.
Joleen Looney – Content Llama's Digital Content Gateway sits between brands and retailers. It sources, organises and transforms product content for the retailer, supplying a single source of brand content to feed internal systems (PIM, DAM, CMS, eCommerce Platform). Brand supplied content is transformed to the format required to feed our client's internal PIM, CMS, and eCommerce platforms. Revolutionsing the product content workflow. Learn more at www.contentllama.com
Boaz Fuchs – c-Level executive with almost 20 years of experience, mostly as ChiefOperation officer and general manager. Recently moved to Dublin fromTel-Aviv and eager to support and guide different start-ups in their different growth stages and to contribute from his rich experience to the local tech market. Lived and worked in Beijing and Tel-Aviv and managed large teams and functions in several global companies in financial services, digital marketing and cloud technology companies. A certified lawyer, certified investment adviser (ISA) and holds an MBA.
Liam Cronin – Senior executive with 25 years' experience in fast paced environments. Background in Localization, Sales, Engineering, Product Development and Commercialisation. Key strengths are relationship-building, strong leadership, communication, change management, and team building. Liams specialties include executive leadership, people management, strategy development, business transformation, project management, innovation, colloboration & team work, customer engagement, stakeholder relationships, commercial acumen, data analysis, written & oral communication, competitive analysis
Check out the full mentor list here.