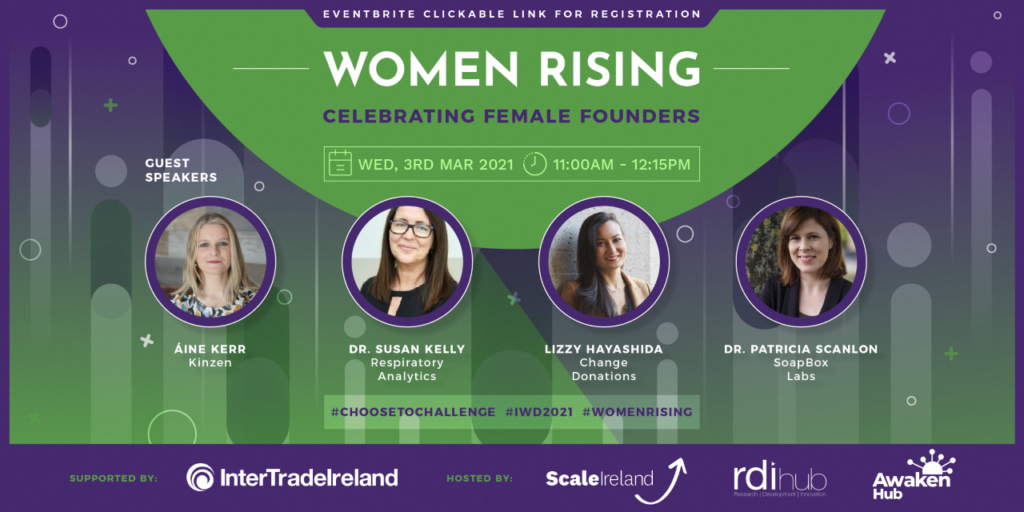 RDI Hub, along with Awaken Hub and Scale Ireland are delighted to host #WomenRising, an event to celebrate Female Founders from across the island of Ireland on Wednesday, March 3rd . During this event female founders will gather, share experiences and forge connections to accelerator business growth.
Why join ?
Hear from other female founders just like you. Forge connection to accelerator growth register now. Be inspired by Áine Kerr, Patricia Scanlon, Susan Kelly, Lizzy Hayashida.
Accept the challenge, register now.
Some more about International Women's day
On average, investments in female-founded Startups were less than half of those made to a company with a male founder, according to a 2018 BCG study. Despite the fact female-founded companies generated 10% more revenue. A challenged world is an alert world. Individually, we are all responsible for our own thoughts and actions – all day, every day. We can all choose to challenge and call out gender bias and inequality. We can all choose to celebrate women's achievements. Collectively, we can all help create an inclusive world. From challenge comes change, so let's all #ChoosetoChallenge. To get involved, click here.
Agenda
Intro -11.00-11.10 – Welcome address, why this event, Intro the partners, the Female Founder opportunity and barriers in Ireland today. (funding, supports, networks, international stage)
Panel Discussion – 11.10- 11.40
Breakout rooms – 11.40 -11.55 – Curated Breakout with facilitators and one expert founder who can share their story, answer questions and share experience. The facilitators objective is to facilitate a round table intro, capture common pain points and share these post calls with partners.
Q&A with panel – 11.55 – 12.10 – Questions from the audiences
Closing remarks – 12.10 – 12.15 – Thank you and ambitions for future female founders across the Island of Ireland. 
A list of who's who
Panel – Áine Kerr, Patricia Scanlon, Susan Kelly, Lizzy Hayashida
Hosts – Mary Carty, Claire McGee, Sinead Crowley, Lizzy Hayashida, Fionnuala O Callaghan, Reidín O'Connor, Martina Fitzgerald, Karina Kelly, Joleen Looney, Mariana Kobal.
Female founders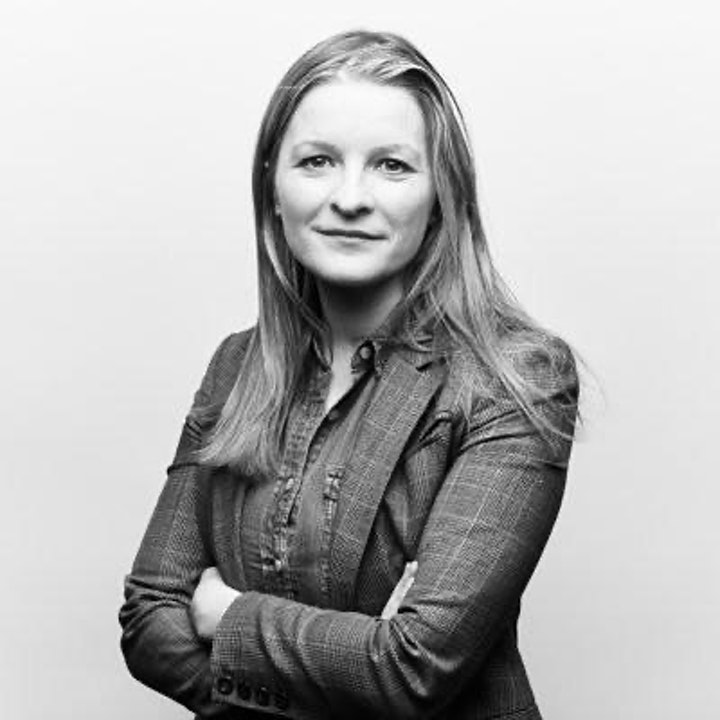 Áine Kerr – Co-Founder and COO of Kinzen; a technology company building products to help connect people with quality news and information. She was awarded Woman of the Year in Media 2018 by Irish Tatler Magazine and was shortlisted for Entrepreneur of the Year in 2019 by Women Mean Business. Her Alma Mater DCU recognised her with an Alumni Award in 2020. Patricia has spoken at major conferences and events world over, lectured in journalism with Dublin Business School and served as a member of the Visiting Faculty at Poynter Leadership Academy for Women in Florida.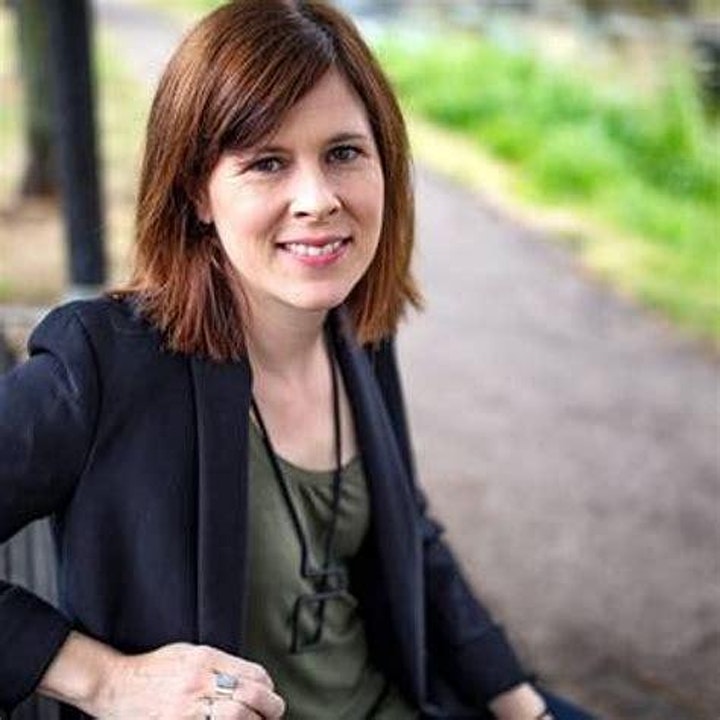 Patricia Scanlon – Founder and CEO of SoapBox Labs, engineer and Ph.D. in Speech Recognition, Artificial Intelligence, listed as the World's top Visionaries in Voice by Voicebot.ai. Patricia was listed by Forbes as one of the World's Top 50 Women in Tech Contributor to TechCrunch and TheNextWeb. To top it off Patricia is also a TEDx speaker. She spent the majority of her career working on the commercialisation of research innovations. Patricia is also a Senior Member of the Institute of Electrical and Electronics Engineers (IEEE).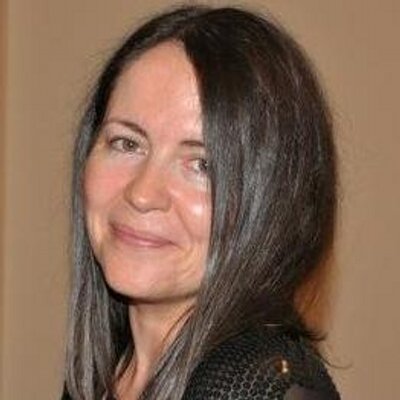 Susan Kelly – Dr Susan Kelly, a serial risk taker and trailblazer with years of experience in the specialist cross-over space between journalism and technology. CEO and Co-founder of Respiratory Analytics, a Northern Irish tech for good company which is building a hyper-personalised device and app to help the 600 million+ people around the world living with asthma and COPD, to better manage their condition. Susan led the team that completed a successful pre-seed investment round in January 2021, incorporating funds from private investors and the Cofund group, capping a whirlwind 6 months which included winning funding awards from Innovate UK and Techstart NI.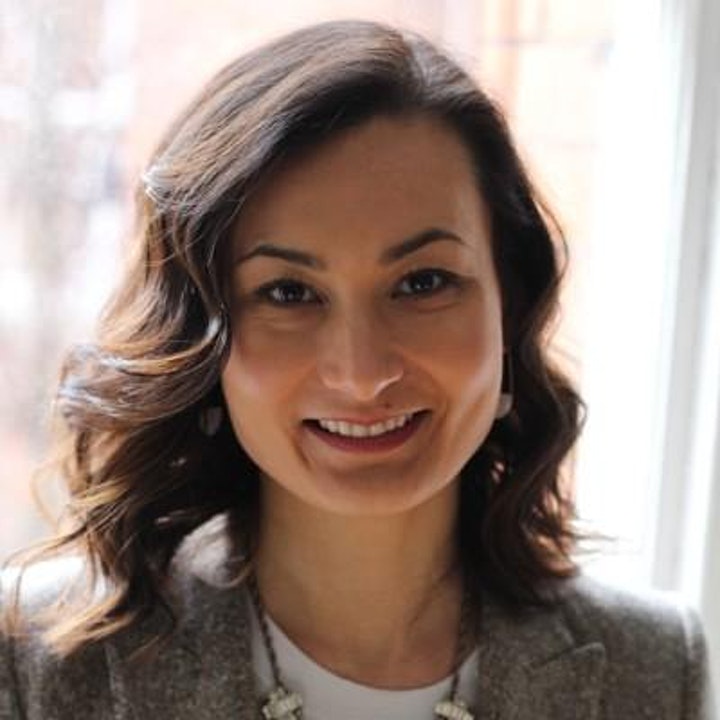 Lizzy Hayashida – From Silicon Valley where she spent 8 years working on new product innovation at early-stage start-ups and large tech companies before moving to Dublin to complete her MBA at Trinity College Dublin. She was an early employee of Milo.com (acquired by eBay) and went on to launch the first same-day delivery programme for eBay. She is now the Co-Founder & CEO of Change Donations, a start-up that helps non-profits fundraise more efficiently and giving donors an option to give what they can when they can.
Get involved now.