Following on from the recent announcement that all remote workers can avail of free vouchers to work in local community hubs, I caught up with 3 members of the RDI community, and asked them exactly what made them decide to use the RDI hub as their base as opposed to working from home.
Andy Munnelly of Hubspot, Cathal Grennan of Catapult and Billy Mahony of Teamwork shared their stories, and told me why they have chosen to work in a co-innovation space.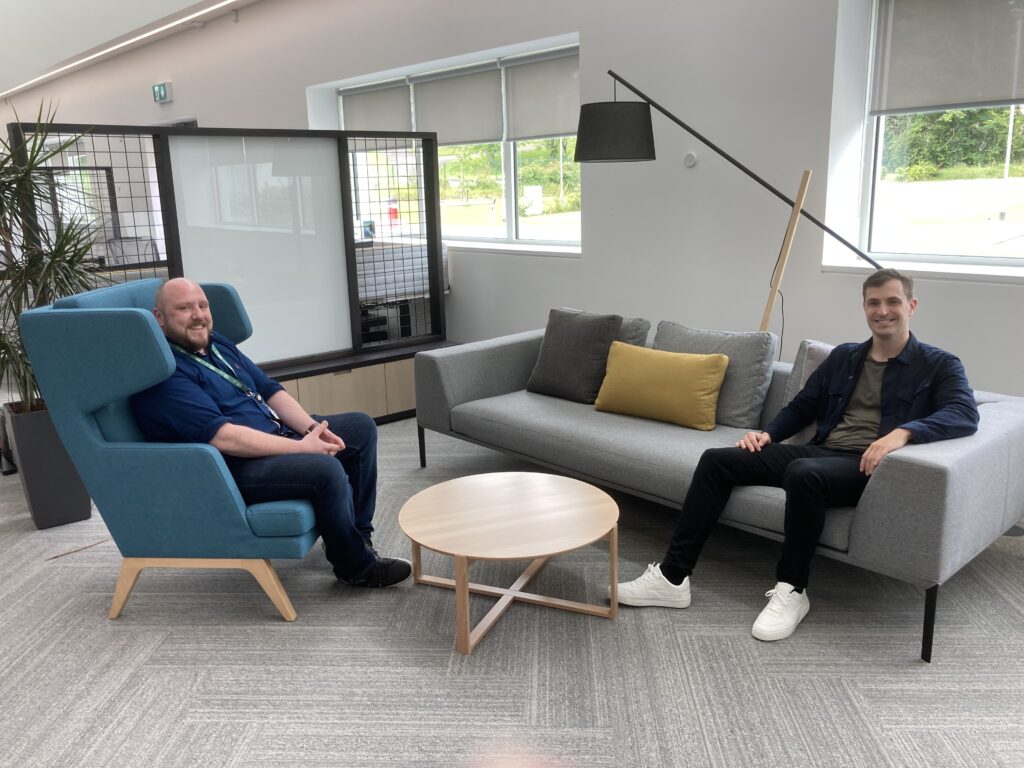 Andy Munnelly, a Customer Success Manager at Hubspot, a CRM software company, relocated to Kerry about 2 years ago and works from the RDI hub two to three days a week.
'I live near Caragh Lake, so it was reasonable for me to work here (RDI hub), particularly in that as much as I like my job and love working remotely, I can't sit in a room and send emails five days a week by myself.
---
For me it's the benefit of coming in and working alongside other people – and it gives a sense of community and hits that office itch that happens when you work and live in a big city.
Andy Munnelly, Hubspot
---
It definitely works better this way, I get more work done if I mix it up and get to spend some days by myself and some days with people. I know I could always go to a coffee shop and use the wifi but in the hub I am guaranteed to get a reliable day's work in here. It's the business setting, it's the Wifi, the meeting rooms, the peace and quiet for conference calls – the facilities are second to none.
Coming here I know I'm going to get work done and I'm going to chat to people so it ticks all the boxes for me and gets me out of the house, If I were to sit in the house all day every day I would lose my mind!' he says with a laugh.
'One thing that really stands out for me I suppose are the networking advantages – I work the UK and Irish market, so there was recently one occasion where I was able to open a conversation with a point of contact with all my target accounts because someone here knew someone in that company, and that was really nice of them – having an open and honest introduction with someone from another company was a definite plus.'
Cathal Grennan, Senior Growth Engineer at Catapult relocated from Australia to Kerry and is very active in the RDI community.
'About six months ago, I relocated back to Kerry. I went to college here originally about 12 or 13 years ago. During the lockdowns and the pandemic we had a baby and decided it's time to be close to family. So I gave up my flip flops, my sun cream and my nice coffee and moved all the way back here, which worked out great. I continued to work for the company that I had been working with in Australia when I originally came back. So I was working about as remotely as you can get, which is on the opposite timezone. I had about an hour overlap in the morning and then the rest of the day to myself.
Initially when I came back first and we were in quarantine, for two weeks I was working on top of a washing machine in a spare bedroom in the in-law's , so that made for a nice backdrop for my video calls!
But even when we were settled and set up in our own space. It just didn't suit me to work from home full time for two main reasons. One is that I found that I needed that mental break between the physical locations of work and home. If I didn't have that I found that I started working late into the evening and at odd hours . It's a case of focus. I find that working in the shared space you get the best of both worlds. I get all the advantages of working remotely with the consistency of having a space where I can come in and focus and be in that mindset for my working day.
The other side of that is the community aspect to coworking, it's quite different than working in your actual company office, because the people you're surrounded by are not attached to the work that you're doing. So the conversations you have look quite different to those you might have if it was in your workplace.'
When I ask if that's a good or a bad thing, he replies:
'I think it's a good thing because for one, a lot of the time you can have conversations about your work be really honest about the challenges and get an unbiased outside perspective. Sometimes I even get help from just talking to people around the coffee machine. Plus, I just enjoy it! I like to be able to have that social interaction.'
I mention that he has been very active in a lot of the community events the hub has run, speaking at a number of events, offering guidance and giving up a lot of his time, and I ask, for someone who is very busy, what motivates him to take on a mentoring role to a degree?
---
'I suppose when it comes to some specific subjects where I have a lot of experience, I'm happy to share and I like getting involved with people who are energetic and trying to do something new. So if there's anything I can do to offer value in that situation, I'm happy to do it because I get some of that excitement and energy back.
It's a bit of a mental escape for me every now and then to be able to pick up something new. Yeah, I really enjoyed the startup world. So having that in this space as well is really good because it just gives that element of creative energy I suppose.
Cathal Grennan, Catapult
---
'There's so many different verticals in this place as well. It fascinates me when you think you've got robotics and AI and you know when people think of this building they think it's just FinTech but there's so many different disciplines. To be able to have a casual chat about robotics in the morning and then talk about cryptocurrencies in the afternoon with someone else, it's a pretty cool thing to do in between your regular working day. And just having that exposure to a wide variety of ideas kind of stimulates the mind I think.
I'm actually on the road to Caragh lake as well, he laughs, it's a very very short commute. And there's only a five minute window around when school starts which is any traffic at all. But yeah, very easy commute, very stress free and it's great just to be able to actually have that bit of flexibility as well where you can pop home if you need to'.
I asked Cathal what his argument would be against 'I don't need to leave the house to get my work done?'
'You know, being able to take a day or two every now and then and work from home in your sweats is great, but it's like sitting down and watching a good TV show. It's great, but if you do that all day every day it's just too much. So yeah, I really think it's about complementing all the advantages of remote working with the elements that you miss when you're not in the office. And I really do think it's the best mix because you do have all the consistency, the routine and the focus you need as well as the flexibility.
I asked if he had to give three reasons why somebody should work from a hub, what would they be?
'You're really putting me on the spot!' he laughs.
'I would say focus is definitely one. Then, flexibility and autonomy, like you get to choose your own hours and choose your own schedule. You can work from here this week, work from home the next, what's not to like? And the last one, I suppose is just that element of community and connection.
---
'There's a social aspect, but there's also the ability to make connections, which I think is valuable for anybody in any role. It's good to be aware of who's out there , and it's actually very valuable to have a network of people that's outside of the people that you directly work with.
Cathal Grennan, Catapult
---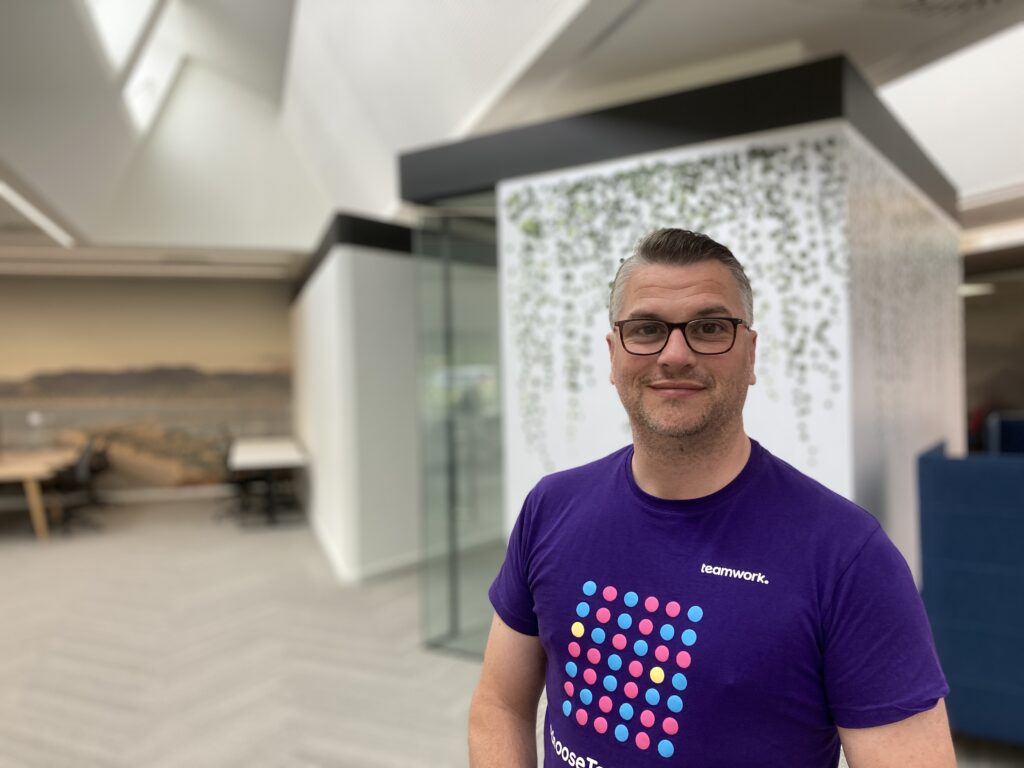 Billy Mahony, Business Operations lead with Teamwork gives us his take on working from the RDI hub.
I'm the business operations lead with the Teamwork.com. Based in Cork, I joined Teamwork in 2011. I would have been one of the earlier members of the team. A lot of stuff ran through me I was the GM there for a long time. So the thought I could ever work remotely never crossed my mind, until lockdown of course.
At the time of the first lockdown we were in Cork and we were working from our own house, no childcare or anything else. So my wife and I shared one office space. So one of us work from the office. The other one would mind our daughter Alex and depending on who had meetings, we would swap back over again and that was a challenge to say the least.
In that first May of lockdown and we had the opportunity to come back to Kerry with our family where I'm from (I'm originally from Killorglin.)
Once we had moved down there was a renovation being done at time so we were still very much at the same kitchen table and yes childcare was becoming more available, but you immediately got a feeling "this isn't gonna work out". I was on calls at different times to (my wife), we were on calls at the same time, we spent our entire time on calls. It was a non starter. So that was our introduction to remote work down here. We wanted to make it work but the drawbacks were becoming very much apparent.
I knew that this was a really fabulous space, I was here for the opening and I was saying at the time the opportunity to work from here would be amazing, It would be absolutely amazing. Now where we've moved to is literally next door to the hub. (My father was actually involved in construction job and renovation, so I was very aware of the building.)
Liam (Cronin, RDI hub CEO) had given me a call about maybe using space once or twice because we still hadn't decided whether or not we were going to move down. And that was where it started from when I came in to try it out for the first month, because within that first month, we had changed from 'Will we, won't we? to 'Yeah, we're moving.'
We've built the office space in the house. So Sharon's working from there, and then I'm in here pretty much four days a week. I work from Cork a single day a week as well. I go up to make sure I'm still in touch with the people from the office.
I have all the benefits of living in Killorglin but also having a state of the art work environment is incredible. I was in here for a lot of the lock down and it was a lifesaver to be honest. Being able to come in and being able to maintain a routine. Being able to come into the hub really delineated work life, you put yourself in a different headspace when you physically came into the building.
Being in the hub as well, you're bouncing ideas, with someone face to face, it allows you to have a conversation with somebody here who is in a totally different business but they're all in the same mindset. Everybody in here has the same kind of mindset. They're asking the same questions. We're all talking about the same thing. So that is a great benefit as well, just being able to chat to whoever's around, run through ideas or problems.
You're both trying to get the same thing, whether the work you're doing here on data or HR, or even logistics, generally understanding what they're facing into is probably a knock on of what we're currently doing or challenges we might have faced in the past.
We've gone through 10 or 11 years of being a startup, so I'm glad I can share some of those experiences ,because there's certain commonality with problems, whether it's customer discovery or increasing sales or scaling your business.'
What words of advice would you give to anybody who might be considering taking a desk here?
---
'Embrace the opportunity. We never thought we would have this opportunity. My wife's from Cork city and she's loving it here. We love the freedom our kid has down here. She started school – she's going to a lovely small country school which again, we never expected, she was supposed to go into a school with hundreds of pupils in Cork, so I would say take the opportunity that presents itself. You can have your cake and eat it too.'
Billy Mahony, Teamwork
---
In conversation with Kerry MacConnell, June 2022