Most founders come up with a great idea for a business, then need a tech developer to build it for them. Graphite Note did this the other way round.
Hrvoje Smolic holds a Masters in the fields of Astrophysics, Atomic and Molecular Physics. Hrvoje has been invited to give a series of talks on the topics of data visualisation and data analytics at various national and international events. He was the founder of Qualia Data Sciences, which has created a flagship data visualisation software BusinessQ for business intelligence, which has to date, been used by over 15,000 companies across the US, UK and Europe. Originally from Croatia, Hrvoje settled in Ireland in 2018 and is based in Killarney.
In September, Hrvoje joined forces with Vinnie Lynch, a sales scientist and veteran of the startup world. Vinnie was previously CEO of Donseed, a construction SaaS business, their value proposition was to enable construction contractors to monitor all aspects of construction labour management on site to save money and to help improve Health and Safety. Originally based in Ireland, they pivoted to the UK, built up to £1 M ARR and sold Donseed to Causeway technologies.
When I ask Vinnie about the term 'sales scientist' Vinnie has this to say…
Well, sales is a science and like any science it can be predictable, it's essentially a numbers game. The more you do, the more you succeed in breaking it down into manageable sets. Instead of someone saying 'I've got a really good feeling about that, the science would be, 'Do they have the budget, do they have authority, have they a clear need, and have they a timeline they need to do this by?' So that part is a science in that you have to follow a formula to be able to deliver predictable sales numbers, it's more of a formula-driven science rather than an art.
I tell him it sounds like a match made in data heaven and ask how their paths initially crossed.
Vinnie was a speaker at a Founders Circle event for the hub back in March; he was there to talk about sales and sales cycles, and facilitated a breakout room which Hrvoje was in. 'Hrvoje explained what it was that he did and I saw it as the missing link in many ways for the work I do. CMOs and CROs are always looking for more leads. What Hrvoje was presenting was the ability to harvest more converting leads from existing leads, so we had a scientific alignment.  Hrvoje mentioned that he was looking for a commercial co-founder. And usually, when I come away from these events, I have a few phone calls following up, I give a little bit of time, and then I ease back. But in this instance, I picked up the phone and contacted Hrvoje myself and said 'I really like what you presented and I'd like to hear more', and that's how it started.'
Hrvoje nods, 'The term 'sales science' was a trigger for me; we both had the same holistic approach to our work and share a similar worldview and moral compass. It turned out that we are both hungry to empower people with deeper knowledge and understanding.'
I mention to Vinnie I've seen his new handle on Linkedin – 'Selling the world's easiest no-code solution' and he laughs… 'Yes! This is the missing link to accessing significant short-term sales growth. CMO and CRO friends and connections of mine are of a similar view but they have been unable to access this type of service…  until now!
Similarly, Hrvoje has the same strapline on his Linkedin, but with the tongue-in-cheek addition of a crystal ball emoji. He maintains the belief that most business owners do not realise the wealth of customer information they have in their possession, and the beauty of Graphite Note is being able to interpret essential use cases like which of their existing leads are most likely to convert, allowing clients to make business decisions based entirely on their own data.
He recalls an encounter with a previous boss who turned to him and announced 'It's data science not rocket science' to which Hrvoje replied deadpan 'I know, because I remember taking the rocket science exam!'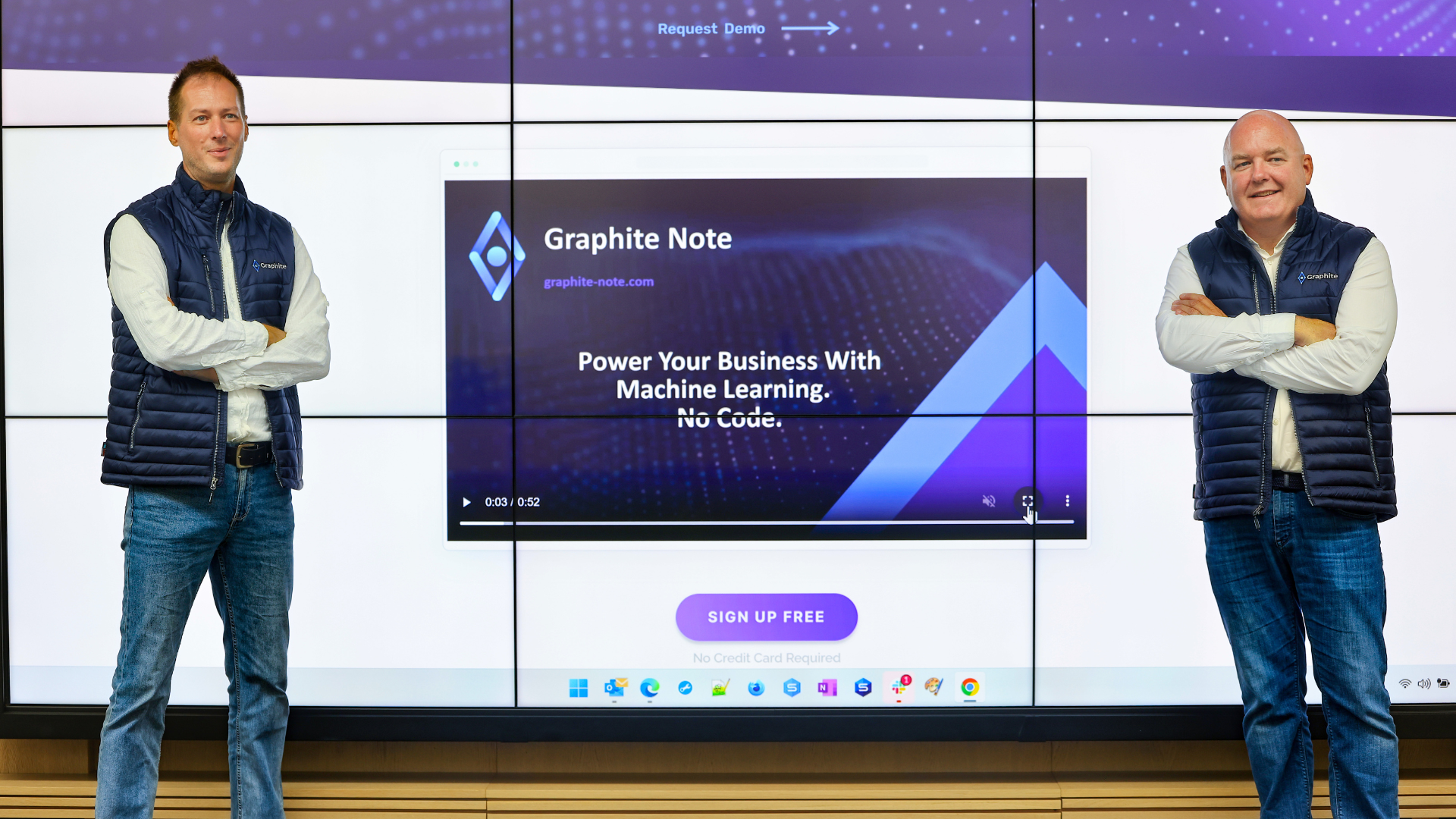 The next week looks to be a busy one for Graphite Note.
They have been selected to participate in 2022 Entrepreneur Experience® (Cork BIC)
The 2022 Entrepreneur Experience™ will take place on Friday 14th and Saturday 15th October 2022 in Ballymaloe, Co. Cork. The Entrepreneur Experience™ is a unique event for 24 Emerging Entrepreneurs to gain unparalleled access, advice and mentoring from 24 of Ireland's most successful business leaders over 24 hours. This event is billed as a unique opportunity for High-Growth & Scaling Entrepreneurs who have an established business that is seeking to scale, have a management team in place and is looking to grow rapidly, or are Entrepreneurs who are seeking investment, have some traction and are in high growth industries.
Immediately following that event, Graphite Note will be exhibiting at the upcoming SaaStock conference, in Dublin on Monday 17th. The conference is described on its website as 'the world's most impactful conference for SaaS founders on the journey to $10M+ ARR and beyond.'
There will be more than five thousand SaaS companies at the event including investors – Graphite Note will be pitching at the event, and there are networking investors through the Brella app. They are expecting significant leads and investment opportunities from this event, and one of the big drivers for the team is to drive proof of the value of Graphite Note and trying to narrow the niche for Saas companies.
'We also have another project in the works,' adds Hrvoje, 'but it's embargoed at the moment, you'll just have to check back in with us in a few weeks when we can tell you more.'
Interesting! So what are your plans for the next few months?
We currently have customers – we have 200 sign ups and more than 500 machine learning models being deployed by customers and we are working to activate up to 10 companies to a proof of value right stage in Q4.
We are currently at the Pre Seed phase and we applying for the best of the best accelerators, after which we plan to progress to Seed and Series A investment.
Vinnie concludes by saying:
'Our focus now is on giving as many qualified SME's as possible access to our powerful platform to leverage the power of their own data to drive significant growth, as simply increasing lead conversion by 5% can double Annual Recurring Revenue within 1 year.'

'And last but not least', Hrvoje laughs, 'a recent HBR article states that the average age of a successful startup founder Is 45, so we're definitely in that ballpark!'
(In conversation with Kerry Mac Connell)
For more information on Graphite Note go to https://graphite-note.com/