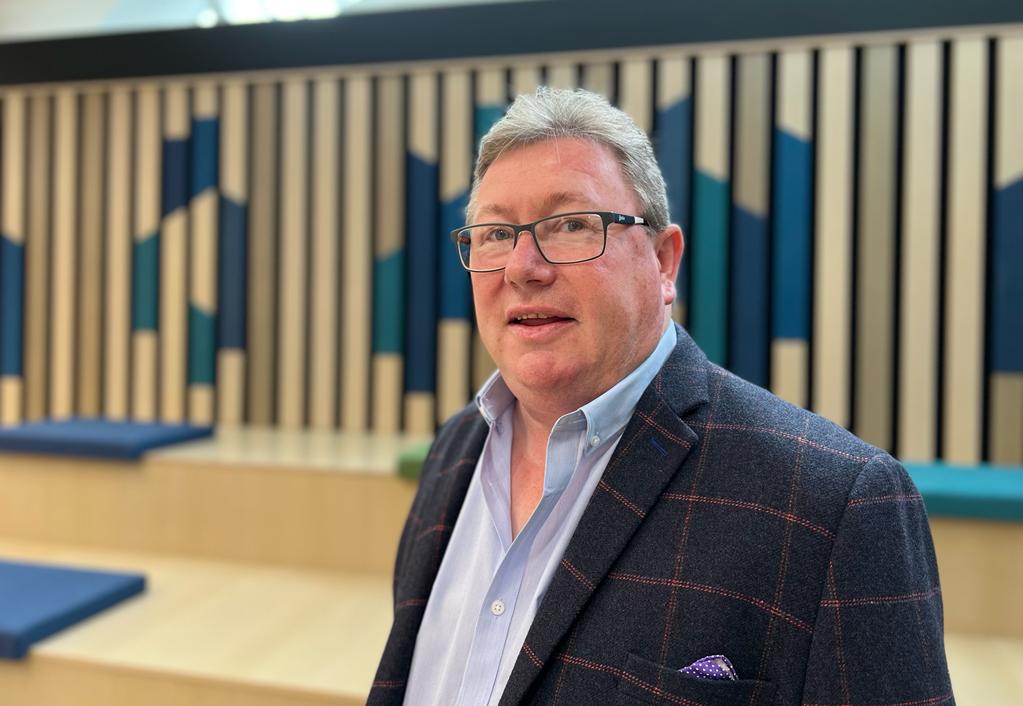 Continuing our series of interviews introducing the members of the RDI community, we meet Paul W Byrne of PWB Business Advisory. With 30+ years of sales experience, Paul is a Kerry man who's recently returned to the fold. He sat with me to explain how exposure to the EY Entrepreneur Programme led him to leave the corporate world in favour of the cut and thrust of the start-up one! I start off asking about his background…
A proud Kerry man, I grew up in Listowel until the age of 15, we left Kerry in 1982 and moved to Naas for educational reasons in order to be near Dublin's universities. In County Kildare I completed my education and in 1984, went on to do a Bachelor of Commerce in UCD in Dublin. So I finished that in 1987. And that really was the beginning of my business career. I joined Ulster Bank in its IT Division for 2 years followed by a year in Retail and then fulfilled my ambition to enter its Corporate Banking division in 1990. And spent, believe it or not a total of 23 years with Ulster Bank enjoying a successful career there.
All of that time was spent in three main areas. One was in relationship management for large corporates and mid-sized corporates and some SMEs in the later stages. And the second then was in restructuring problem debt. I developed a lot of expertise in that area. And the third area was what I called pure business development. So pure business development was something that I absolutely loved and was the area in which really, I spent the bulk of my time of that 20 year period. And I finished up in 2010 as the head of business development, Corporate, a role which I held for a number of years prior to leaving the bank to avail of a redundancy opportunity. And that was the kind of the catalyst to move into the world of entrepreneurship.
Whilst I was in Ulster Bank I had formed a three year partnership with EY, the 'Entrepreneur of the Year' program. So that was a life changing event for me because I got to go on foreign delegations and spend time with some of Ireland's foremost entrepreneurs. Some of them local to Kerry, such as Jerry Kennelly (of StockByte as it was at the time) for example. And then I went on, when I left Ulster Bank to join one of the entrepreneurs Michael Dawson & Declan Byrne of One4All in the UK. And after that, I moved into the world of technology with Salesforce, and I was selling its SAAS platform into Financial Services corporates in the UK & Ireland again.
Over the years, you've worked with a variety of different industries. Tell me a little more about the different types of projects you've been involved in?
So I suppose my core expertise is in the financial services and fintech. I've also worked in technology, with Salesforce, in retail with One 4 All , in management consulting with a company called Katawave. I've also worked in two not-for-profits. I've worked as a council member and director of the Sales institute of Ireland (now The Executive Institute) for an eight year period when we were promoting standards of professionalism, excellence and ethics in selling. That was a great give-back to business and it was something I felt really, really good about.
And I also worked as Head of Membership and Retention for Dublin Chamber of Commerce. So that was actually my last role prior to setting up my business PWB. And the good thing about that role was, again, you're really at the core of Dublin business, giving back to society, helping businesses to link with and do business with each other. And we had about 1,300 businesses and membership split into SMEs and corporates. And it was great. It was kind of full of energy, about 200 events a year I'd attend once one every day one every business day at least. And so you'd have breakfast lunches, dinners, webinars, zooms you name it, everything just to facilitate business. That 5 years was really rewarding whilst making a huge increase in my network.
Of all the different companies that you've worked for what would have been your favourite project so far? What did you get the greatest job satisfaction out of?
Believe it or not, it's an unusual one. It was a restructuring one. So this was a company that had gone into examinership. It was a company called Goodman International. And it was Ireland's largest food processor at the time involved in the red meat sector. So what I did was, I worked on the case of the restructuring for a 12 year period alongside my other daily duties, and the case involved nearly 40 parties (domestic and international banks, lawyers and the company) and my role was as the security trustee so I handled all of the security underpinning the debt. And I had to kind of keep everybody together and onside over the 12 years to realize the maximum amount possible from those asset disposals and it was a big challenge but I loved it because it taught me great negotiation skills and lots more as well.
Lots of moving parts there! Managing all the moving parts probably set you up really well for setting up your own business. What was it that incited you to make the leap from such a corporate background and go and work for yourself?
The spark was entirely driven by the EY Entrepreneur of the Year program because the exposure that I got to those entrepreneurs and the chats with them and the encouragement, you know, the mentoring, actually, from some of those that said, 'you need to go and do your own thing.' A number of them believed in me, and then I believed in myself and I went for it and in fact, the current business is actually my second attempt at it. I did do it for a year and a half previously with a sales training and consultancy business. But really I wasn't operating in my sweet spot because I probably went down the wrong road and then I got a call to take on a job, which I did. But now it's different. I've learned from my mistake, landed in the sweet spot and now I'm doing what I want to do and love to do.
So tell me a bit more about your business and the services that you offer.
The business is 18 months old at this stage. It's called PWB Business Advisory and I am styled as 'Your outsourced business developer'.

So just to explain that for a second. It's intended to deal with kind of a niche or a gap in the marketplace. So really what I'm doing is servicing the needs of businesses that don't necessarily want to take on a full time business developer. Or indeed, they may have a gap in their current team in terms of skill set, and they want to buy in the talent in order to grow their sales pipeline, close the sales pipeline or assist with closing the sale. So that's really the niche and it was quite relevant during COVID because again, headcount was being reduced in some businesses. But there was and is a big demand for the offering then and what I'm doing now is identifying other businesses that need these business development services and expertise.
There's three main pillars to the business in terms of offerings; connecting, advising and closing. The connecting piece is all about strategic targeting of companies that my client wants to get into. And my sweet spot is with SMEs and what I'd call mid-sized corporates, just to put context on that, the SME would typically have turnover over a million euros, and the corporate would have turnover probably of up to 500 million euros. So it's in that it's in that kind of range. So it's quite a broad range.
So that the Connecting piece is literally it's like corporate matchmaking. It's agreeing the parameters with the client, and then working to close out on what the client wants and bring parties warmly together to do business. So that's connecting and it's a very targeted approach.
The Advisory piece then is really leveraging off my experience in terms of business development over a number of decades. And it's all to do with giving the type of advice that will help them to move deals through the sales pipeline. So quite often a deal can get stuck or you're targeting a particular prospect and it just gets stuck, you could be ghosted. You know, there might be a number of things going on. And really what I do is I just kind of come in and look at what are the factors influencing the deal, and how can we just keep it moving? And how can we grow the pipelines? That's the advisory piece.
The third piece then is helping to Close the sale. Again, that would very, very much be done in tandem with the CEO or with the business development team in the business because I don't profess to have knowledge greater than what the sales team already have. It's all about collaboration. It's all about working together and coming in to help the team to deliver out the end result.
That's really interesting Paul. So what are your plans for the short term and the medium term?
So for the short term, if I was to kind of take a one and a three year horizon for this year, my immediate priority is to secure at least three new clients in the area around Kerry, Cork, Limerick. What I want to do is to have a broader spread of clients and reflecting my recent move to Kerry, I'd like to get three mid corporate clients, probably in the area of FinTech, or a large food company, which I have a particular background in, and grow those clients into long and sustainable relationships. So that's over the one year phase.
Over the three year phase is to continue to add more clients. So I would see having a capacity to handle about 10 clients on my own. But what I would love to do is to secure enough clients to be able to take on a few more associates. So that's really the scaling of the business and build it up into a stronger and very sustainable brand with unique business development expertise.
Can I ask I suppose what it was that prompted you to position yourself from the RDI hub?
Great question. I met Eamonn Sayers in the Guinness Enterprise Centre and he said, 'God, if you're moving to Killarney you've got to reach out to Liam Cronin.' And I reached out to Liam Cronin on LinkedIn. Liam was incredibly proactive, said he'd be delighted for me to come to an event, meet me for breakfast, show me around. And to be true to Liam, he did all three of those things very fast, very professionally. And in terms of a good first impression 100%. Then in early May, I'd moved down eight days at the time in Killarney when I came to attend the founders First Friday event.
(Laughing) That was a really great introduction to the place!
Yes I was blown away by it. The event really showed the best of what the community is like. The energy levels were great. There were lots of speakers, I seem to recall there was about 50 people in the room. And I found it very, very refreshing because I had come from a position of working from a bedroom or a home office for the best part two years. So I knew the minute I walked into the room that this is where I wanted to be. And since joining in June, it hasn't let me down. All of the things that I thought about and expected such as the co-innovation space, collaborating with people, meeting like-minded business people, getting sparks in the room, and the whole networking base, all were evident in abundance. And that's why I'm here and I'm very happy. I've no hesitation in recommending RDI Hub as a great place to learn, network and scale your business.
That's great to hear. And we're delighted to have you, so thank you so much! Finally, Paul, tell us something about yourself that might surprise us, that we wouldn't know from your website or Linkedin?
(Laughing) Okay, I'm a published poet! And it's something that I'm very passionate about. The story behind the poetry was I fell into it in 2007, I was on the plane on the way back from Haiti. And I was really affected by the poverty down there and I wrote my first poem about poverty on the plane on the way back, and whatever it sparked in me, I've been writing ever since. So 15 years of writing, and I've performed on stage in the Helix and done a few other things and I'm going to continue to draw inspiration from the beautiful County Kerry to write a lot more poetry.
Lovely. Thanks Paul and again, you are very welcome to the RDI hub.
(In conversation with Kerry Mac Connell)