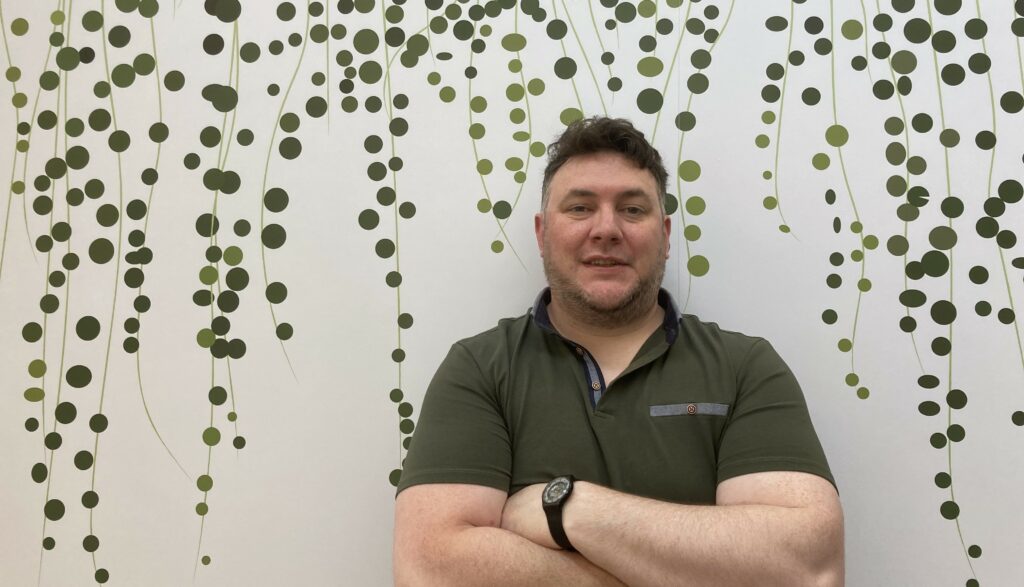 I'm in the RDI hub sitting in the Liebherr booth. This is one of my favourite spots in the hub as Liebherr always have the best immersive tech to try out, including their Microsoft holo lens and their VR (virtual reality) headsets. I'm sitting with Dr David McMahon, the software architect and software development project leader of the Liebherr digital web services project. David holds a PHD in software engineering and has a background in Fintech, Medical device & Services, Heavy machinery and software architecture consultation and has also worked as a lecturer in various science and engineering disciplines at university level. I ask David what he and his team are working on.
'As you know, Liebherr is a global company with a huge breadth of offerings, covering cranes, mining equipment, aerospace & transportation and lots more. Our project is focusing on Liebherr maritime cranes.
Liebherr are digitising their crane data into four key services namely, fleet management, data analysis and reporting, AI and Crane maintenance. It's my team's task to deliver these digital web services.
We will be interconnecting every Liebherr crane in the world through dynamic cloud architecture – providing Saas multifunctional application that satisfies both customer and engineering requirements.
The focus of this particular project is Liebherr's Maritime cranes which are Ship-To-Shore cranes, RTG (Rubber Tyre Gantry) and RMG (Rail Mounted Gantry) cranes.
We're taking all crane data and distributing it through a bespoke Saas application – with a focus on providing continuous and discrete data insights as well as utilising disruptive technology such as digital twin, artificial intelligence and immersive AR/VR technology to create an immersive experience. We want to be able to streamline what are currently paper based processes and bring them all into the cloud. There is a clear need to digitize this product.'
What are the use cases of these services?
'Data access, storage and data visibility across the entire port for operational and maintenance processes. Asset realisation through immersive technology is huge.  This provides a real-time virtual playback environment anywhere in the world (as opposed to having to physically fly someone onsite.) From an engineering perspective, this helps with design and energy efficiency. It can assist us in making the cranes greener, help us understand behavior under weather conditions, understand the entire cost of ownership. For training purposes, this provides a safe, risk-free environment for training. Smart analytics through AI helps inform lift cycle optimisation for human interaction with automation processes. From a fleet management point of view, the inbuilt AI scoring mechanism can help inform potential downtime risks and assist crane maintenance planning.'
How long have you been working on this?
'We had spent 2 years in investigative research R&D, but 7 months ago we made the decision to physically give ourselves the time and space to focus on this project and moved our development team to the RDI hub. Since then, we have worked on Implementing the 3 tier architecture, engaging in full stack development, developing the bespoke architecture using an agile approach. We now have a working prototype which we will be 'soft launching' in the port of Cork to great anticipation, with a view to potentially launching in Brisbane following this.'
Tell me about your team and what a typical day looks like?
'There are currently 6 in our development team and a typical day would cover a wide spectrum of work! Tasks would include Development planning, Standup feedback session, API development, 3D modelling and integration using Unity, Cloud architecture implementation, testing, AR and VR, immersive technology integration development, mobile and web app development.
We are very fortunate to be working with MTU software students from the north campus. The calibre and work ethic is inspiring and they get an opportunity to work with Global Leaders in a cutting edge and innovative environment.'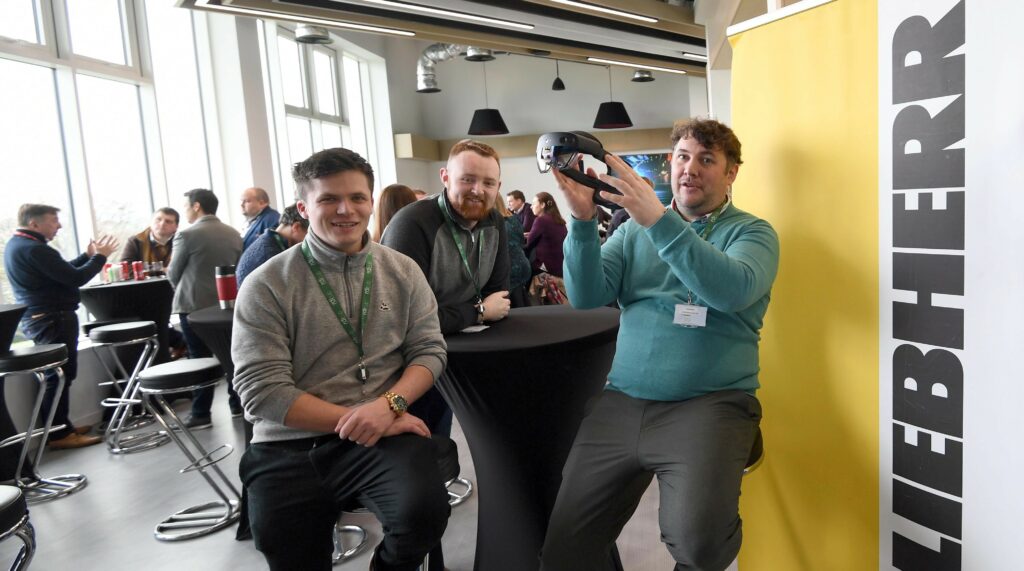 Pictured from L-R: Cillian Nolan, Darragh Sweeney and Dr David McMahon | Photo credit Don McMonagle
How do you feed back on your progress to Liebherr?
'I'm proactively involved with a wider team in Liebherr – covering both product and innovation. At a global level I am the representative of the central digitalisation software development steering group. Our innovation in terms of streaming API and cloud architecture is already having an impact in the roadmap of other Liebherr heavy industry companies such as earth moving equipment.'
What does success look like for you for this project?
'What we are working on is modernising software technology to create a superior, modern, project asset crane. This is cutting edge technology, carbon footprint sensitive and more efficient to use. We have never digitized this assistive technology to reinforce all the crane's embedded systems and getting access to this is amazing. We are looking to create a one stop shop app that covers all the key areas associated with visual infomatic screens, providing all the interconnecting systems, something closed loop, with no need for 3rd party involvement.
Ultimately the vision is 24/7 real-time secure access to any Liebherr crane anywhere in the world – accessed by simply putting on the holo lens.'

He pauses, considers and continues; 'Actually, this could potentially apply to all port assets, not just limited to cranes, Liebherr or otherwise. The possible applications of this are limitless.'

Dr David McMahon
I thank David for taking the time to chat with me but before leaving I try on the holo lens again to take another virtual tour of one of their Ship to Shore cranes, 150 feet up in the air.
In conversation with Kerry Mac Connell